Adventures in Caring for My Sister
Courtesy of Hyperion Books
Meet Terrell Dougan's sister, Irene: a woman in her sixties who still believes in Santa Claus and the Easter Bunny—but who also enjoys playing those characters for the children at the local hospital; whose favourite outfit, which she'll sneak into whenever Terrell's back is turned, consists of Mickey Mouse knee socks and shorts; who wins over the neighbourhood kids by hosting two fire trucks at her lemonade stand; whose fridge bears a magnet: NORMAL PEOPLE WORRY ME.
When Irene was born, her parents were advised to institutionalize her. They refused and instead became trailblazers in advocating for the rights of people with mental disabilities. The entire family benefited, with a life rich in stress, sorrows, hilarity, joy, and overwhelming kindness from strangers. Terrell has found that the only way to get through the difficult moments is to laugh—even in the most trying of times. In her moving, funny, and unforgettable memoir about life with Irene, Terrell Dougan shows that love, humour, and compassion are enough to heal us, every single day.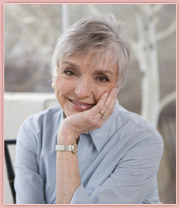 About the Author
Terrell Harris Dougan wrote a column for the Desert News for thirteen years, for which she won the award for Best Humor Column from the National Federation of Press Women. She served as president of the Utah Association for Retarded Citizens for eight years, and on the board of the National Association for Retarded Citizens for two terms. She also took part in the beginnings of the Sundance Film Festival. Dougan lives with her husband in Salt Lake City, Utah.
---
More information
Product Details
5 copies available

This book is CLAIMED.

Hardcover: 224 pages
Publisher: Hyperion (January 6, 2009)
ISBN-10: 1401323294
ISBN-13: 978-1401323295
Shipping within Canada & US sponsored by Hyperion Books