This is the first time we've released a set of books, so just to be clear, if you claim this you'll get Book 1 & Book 2 in The Herasaga trilogy.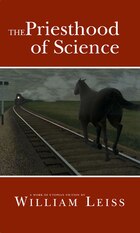 Hera, or Empathy (Book 1: The Herasaga) & The Priesthood of Science (Book 2: The Herasaga) by William Leiss
Hera, or Empathy & The Priesthood of Science are the first & second books of the Herasaga, a three book–cycle about the lives of twelve sisters who are genetically engineered to have increased cognitive abilities.
Hera, or Empathy -- As teenagers, the sisters are forced to flee for their lives from the remote Indonesian village where they were born. Growing in maturity and independence through the experience, Hera, the eldest and acknowledged leader of the sisters, challenges her father's right to have engineered his children, basing her argument on the Biblical story of creation.
Until one day she discovers that the sisters' genes contain modifications that their father never intended…
The Priesthood of Science -- The global political situation is increasingly volatile, and Hera and her sisters are sealed off from the rest of the world in southern Nevada. She is still tormented by her parents' decision to genetically modify the brains of their twelve daughters—and by her own agreement to allow a similar procedure to be used on a much larger group of human embryos.
That group of engineered embryos has become one thousand young people just turning eighteen, and the gender politics among them is threatening to ruin Hera's gamble on a new beginning for human society.
About the Author
William Leiss is a visiting scientist at the McLaughlin Centre for Population Health Risk Assessment, University of Ottawa, and professor emeritus, School of Policy Studies, Queen's University. He is the author or co-author of ten books, including Mad Cows and Mother's Milk and In the Chamber of Risks. Author's Site: William Leiss
---
More information
3 copies This set is no longer available
Series Site: The Herasaga: a Work of Utopian Fiction,
Author's Site: William Leiss
Hera, or Empathy -

Paperback: 624 pages
Publisher: Cangrande (March 1, 2006)
ISBN-10: 0973828307
ISBN-13: 978-0973828306

The Priesthood of Science -